3200VS Sound Performance
CellarPro 3200VSi-ECX, WhisperKool XLT 3000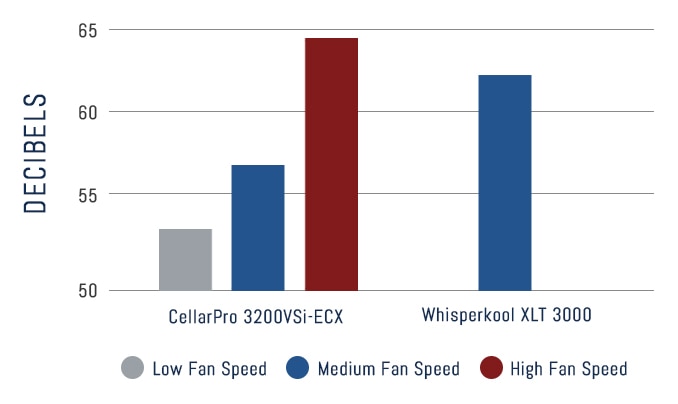 Summary:
CellarPro's 3200VSi-ECX cooling units with variable-speed energy-efficient EC fans are significantly quieter than WhisperKool's XLT 3000 at the low and medium fan speeds. At the high fan speed, CellarPro is slightly louder, yet it is more powerful at both the medium and high fan speeds. The decibel readings for the CellarPro and, WhisperKool XLT 3000 wine cooling units were measured in identical conditions while the fans and compressor were cycled "on".
Test Conditions:
Both wine cooling units were installed and tested in the same test wine cellar.
The decibel measurements were recorded three feet from the wine cooling unit and six feet above the floor.
CellarPro 3200VS systems use energy-efficient EC fans, resulting in energy savings of approximately $125* annually as compared to the same unit with AC fans (*assumes 75% runtime and $0.15/kwH)
CellarPro's 3200VSi-ECX offers three variable-speed fan settings - Low, Medium and High - to meet variable cooling needs and ambient conditions. Decibel measurements were recorded at all three fan settings and displayed in the above chart.
WhisperKool's XLT 3000 does not offer variable-speed fan control.