Custom Wine Cellar with Kit-Based Wine Racks in Randall, NJ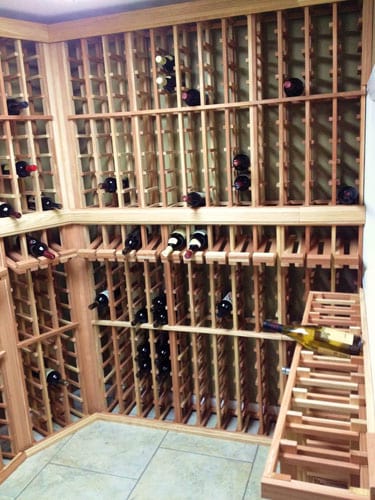 IWA created a functional wine storage room with 600+ bottle capacity, archway display and table top for opening and decanting wine, using kit-based wine racks.
Background & Goals
Wine storage room in a Randall, New Jersey residence.
Client wanted functional wine room with specific design elements and backlit wine display rows.
Tight budgetary needs demanded kit-based wine racks.
WineMaker wine rack kit was selected to match the client's desired style.
WineMaker Wine Rack Kit
Client chose Premium Redwood with a natural finish, to create an organic feel to the wine room.
Rack kit arrived in less than 2 weeks.
Racks are stackable, and came in 3 feet and 4 feet height.
Client assembled the racks himself.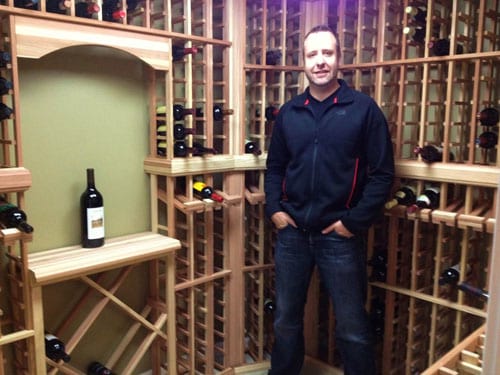 Wine Room Challenges
The room had an unusual asymmetrical shape with 6 walls.
One of the walls had a picture window, so the cellar had to look great when looking from both inside-out and outside-in.
Accomodate an archway display, a table top for opening and decanting wine, and open diamond cubes for bulk storage.
Cooling unit could only be placed in one location.
Maintaining the Right Temperature
A cooling unit was installed to keep room temperature to 55-60 Fahrenheit. This helps wine age better and makes it less likely to oxidize or spoil.
Inspected the wine cellar to make sure it is well insulated, ensuring that the cooled air stays within the cellar and that warm air does not get in.


Ready to Get Started?
Request a Design

Request a Design

Or Call Us 800.527.4072