Custom Wine Room a Central Feature in Stunning San Francisco, CA Home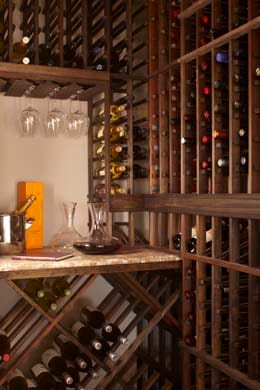 A special emphasis on display makes this IWA-designed custom wine room a focal point that sets the tone for entertainment, wine parties and social evenings in this high-end California home.
Background & Goals
Dedicated 300 cu. ft. wine room in high-end San Francisco Bay area residence.
Located off of the dining area, the wine room had to have special emphasis on display.
The wine cellar had to match the decor of the rest of the floor.
Since the cellar was located centrally in the home, it needed to look beautiful when viewed through the double-paned glass wine cellar doors.
Wine Room Layout
Opposite the door, we placed a hanging glass rack, with individual bottle racking above the rack and open diamond racks below the tabletop.
To enlarge the countertop space and maximize bottle capacity, we designed double-deep racking below the tabletop, and created half-hidden bin storage in the dead corners of the cellar.
We used Vintner wine rack kits which are modular to fit almost any ceiling height.
Racks were made with premium redwood and stained with a dark walnut stain.
We designed the racks to extend from floor to ceiling to maximize bottle capacity.
We placed rectangular bins on the side walls for easy access to wood and carton cases.
We designed a display row with LED accent lighting to add drama and visual impact in the wine cellar.
Crown and base moldings, beveled ends and eased edges provided high-end finishing touches.
The wine cellar flooring matched the same dark wood as in the dining room.
Wine Cellar Refrigeration
CellarPro 1800XTSx cooling system that is designed to be installed through an exterior wall.
The wine cooling unit was installed near the ceiling on the right wall, with racks to the left, the right and below.

Ready to Get Started?
Request a Design

Request a Design

Or Call Us 800.527.4072