Danby Temp and RH Performance
U-Line 2275ZWCS Wine Cooler Temperature and Humidity Performance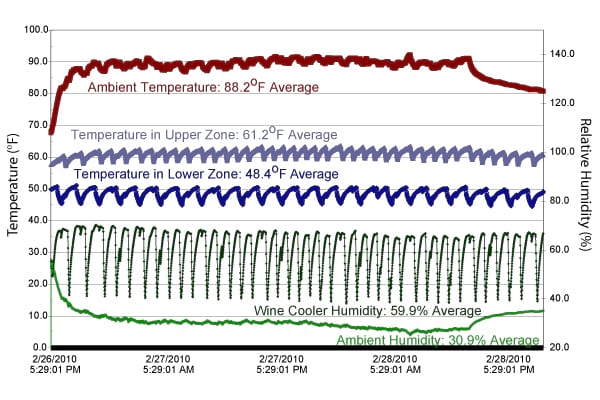 Summary:
We tested U-Line's 2275ZWCS wine cooler in temperatures approaching 90°F to see how well the wine cooler would protect wine collections inside the cooler. As illustrated in the chart above:
U-Line's wine cooler did a very good job maintaining consistent temperatures in two zones for red and white wines.
U-Line's wine cooler maintained ideal humidity conditions that averaged 59.9 percent inside the wine cooler (ideal humidity conditions for storing and aging wine range from 50 to 70 percent humidity).
Test Conditions:
The wine cooler was tested in an enclosed, climate-controlled test room for 48 hours
The wine cooler was filled with 31 bottles (72% capacity)
The wine cooler was set to maintain 55°F (upper zone) and 45°F (lower zone).