Affordable Custom Wine Cellar w/ Vintner Wine Rack Kit in Westminster, CO
IWA built this beautiful 800+ bottle cellar in Westminster, Colorado using Vintner Series wine racks to reduce the cost and stay within client's limited budget.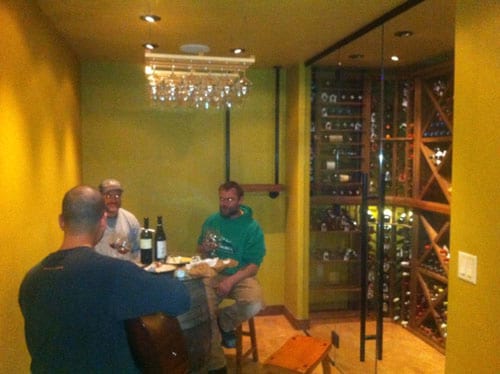 Background & Goals
Wine cellar for house in Westminster, Colorado
Client wanted the racks to match the home decor
Limited budget did not allow for custom-built racks
IWA designer proposed Vintner Series wine rack kit to cut costs
Performed heat load calculation exercise to determine appropriate cooling unit
Vintner Series Wine Racks
Client was concerned with how the racks will match existing home decor.
Multiple wood samples with various stain options were sent to client.
Client chose prime mahogany with dark walnut stain.
Quality material at a mass-produced price helped client stay within budget.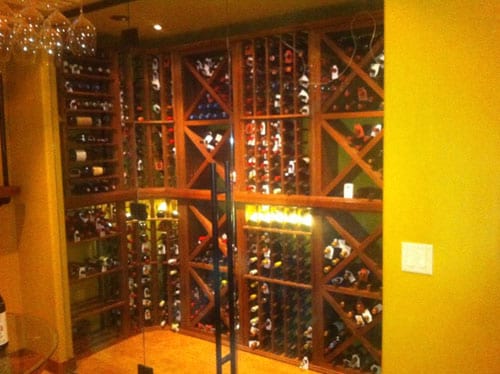 LED Lighting
LED lights were added to brighten up the space.
While more expensive than regular light bulbs, LED lights use less energy saving money in the long run.
LED lights don't emit heat, protecting the wine from premature aging which other heat emitting lights can cause.
CellarPro Cooling System
The cellar was built with a CellarPro 3200VSi cooling unit which is designed for 400-800 sq. ft. cellars.
Cooling unit was hidden from plain view with a wooden louvered grill that matches the racks.
The cooling unit's variable speed fans allow it to operate quietly at low temperatures, but also perform at maximum when temperature rises above 115F.
With the CellarPro 3200VSi unit, temperature and humidity are kept at constant levels.
The 3200VSi cooling unit includes a thermostatic heating element, electronic temperature control and adjustable humidity control.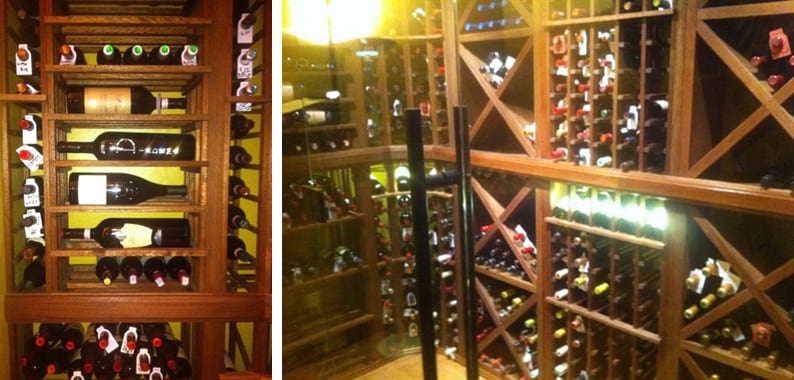 Ready to Get Started?
Request a Design

Request a Design

Or Call Us 800.527.4072