Dedicated Wine Room for a High-End Customized Home in Tiburon, CA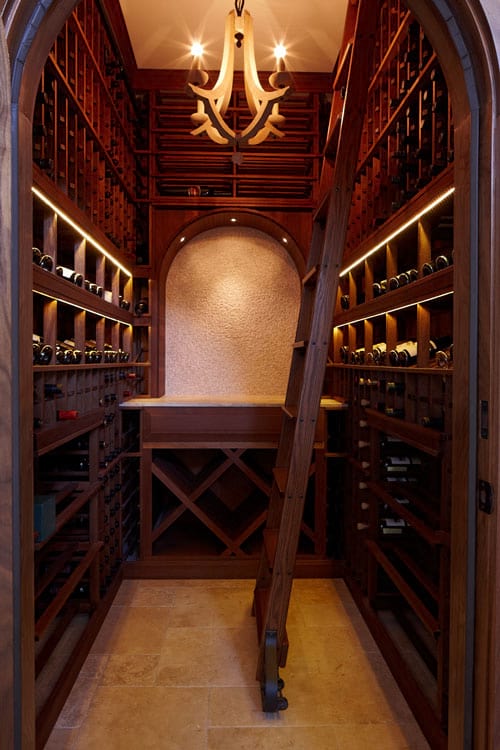 With a focus on raw wine storage capacity, design and aesthetics, IWA built this dedicated wine room with a 2,000 bottle capacity in Tiburon, California.
Background & Goals
Dedicated 300 cu. ft. wine room in high-end home in Tiburon, California.
The wine room aesthetic had to match the rest of the high-end custom home.
Maximizing bottle capacity was important.
Creating a "wow" factor for visitors, friends and guests was also important.
Wine Room Layout
Opposite the door we placed a beautiful tabletop archway with dramatic display racking above the arch.
To enlarge the countertop space and maximize bottle capacity, we designed double-deep solid-wood diamond racks below the tabletop.
In the dead corners of the cellar we created half-hidden bin storage.
The racks extended from floor to ceiling, which also increased bottle capacity, and we designed a rolling ladder for access to bottles near the ceiling.
We placed rectangular bins on the side walls for easy access to wood and carton cases.
We used double display rows with LED accent lighting for maximum drama and impact.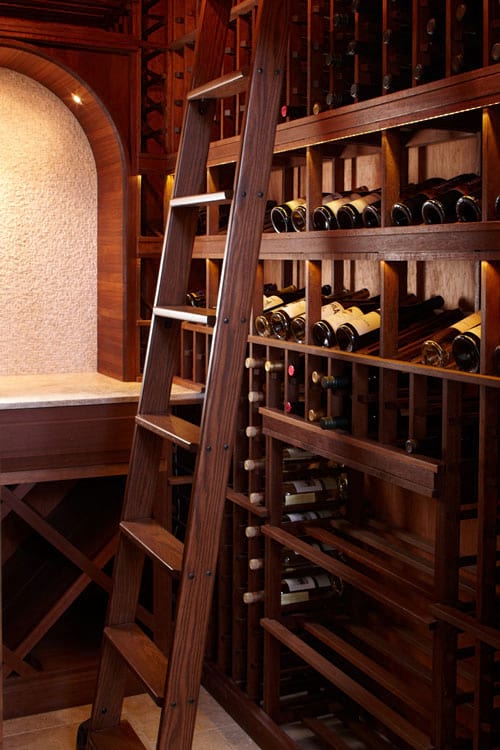 Wine Room Design Elements
Worked with owner and interior designer to choose finishes that would match the décor in the other rooms on that floor.
Wine racks were made from mahogany with a dark walnut stain.
The arched wine cellar door was designed to match the arch on the rear wall of the wine cellar.
Tinted double-pane glass in the door provides thermal and UV protection inside the wine cellar.
Stained ladder and cellar floors to match.
Crown and base moldings, beveled ends and eased edges provided high-end finishing touches.
Wine Cellar Refrigeration
Installed a CellarPro 3200VS cooling system.
Located system in an adjacent room to remove compressor noise and create additional space inside the cellar.
Moved the controls and digital readout of the cooling unit to the entrance of the wine cellar for easy monitoring.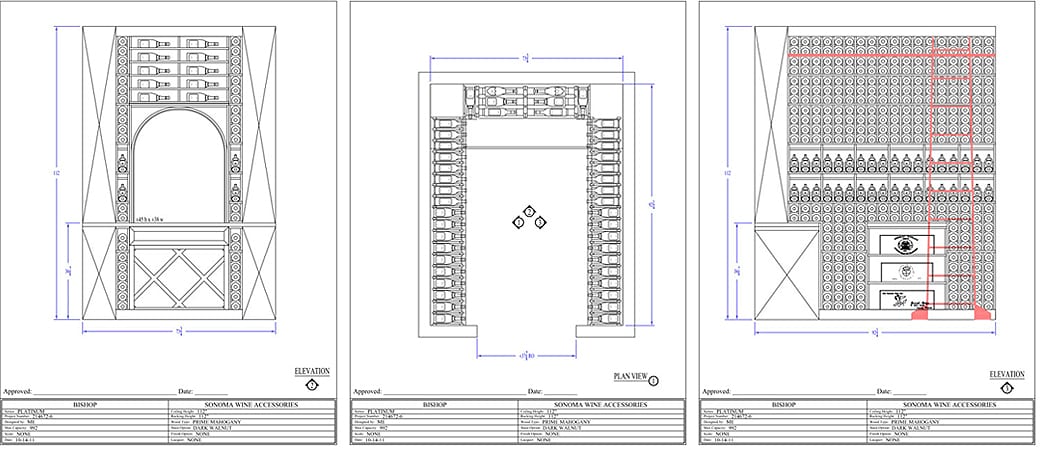 Ready to Get Started?
Request a Design

Request a Design

Or Call 800.527.4072